Painting with Kids
This course on Pour Painting with kids will prepare you to have fun creating one-of-a-kind pour painting art masterpieces with your children.
What You Will Learn
In this course, you will learn the fundamentals of pour painting and what supplies you will need to get started. You will learn how to help your little ones or the whole family create fun works of art. I can't think of a better way to share some quality time, especially with what we are going through right now. Creating something beautiful and unique is sure to lift everyone's spirits. I have structured the course in such a way that you can get everything together and ready to go before bringing the kids or family together to create.
The Painting Instructor
My granddaughter,  Ava James is the lead instructor in the painting portion of our course. Ava has about two years of experience in pour painting. She began painting when she was two years old – she will be four in July! That means that Ava has been an artist for half of her life!
Bonus Access
I know that my grandkids love to watch and learn from other children, so, I have included bonus access to a variety of videos of Ava doing all of the painting steps with my guidance. These videos will help you engage your little ones and to build belief that they can "do it too."  Gather the family around to watch together.  You will see how I make suggestions and encourage her the whole time. Kids will get to see a beautiful, one-of-a-kind masterpiece seemingly appear on the canvas. Look for the link to the bonus videos in your purchase confirmation checkout.  
What is Included
Included in this course, you will receive step-by-step instructions from beginning to end.
Get ideas on what your kiddos can create along with a shopping list from online retailers

From workspace to paint, this step-by-step prep process will prepare you to have fun

Learn techniques that will help your kiddos create more dynamic and exciting pieces

Layering the paint in the cup creates fantastic learning opportunities

Bringing it all together to create one-of-a-kind art masterpieces with your kids

Additional helpful resources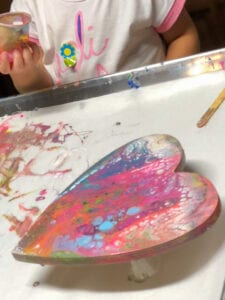 Creativity is contagious. Pass it on. -Albert Einstein
This post is so appropriate right now: Live Like There's No Tomorrow 
Depending on your screen size or device, you may not see the Checkout or Purchase button. If not, select the Keep Reading button to access this Course!